---
2010-08-15 : Apocalypse World


If you're here looking for Apocalypse World, I can set you up. Go to:
- apocalypse-world.com for free downloads;
- Night Sky Games to buy;
- barf forth apocalyptica for discussions & hacks.

---
2013-05-18 : Anyway vs G+: complicating factors

Even if I were to decide to do it, bringing everything back here to my blog wouldn't be as easy as it sounds.

The apparent impermanence of conversations on G+ mean that you can have honest conversations about contentious subjects. On a blog, you worry about writing something worthwhile instead of something honest, and you worry about the judgments of future out-of-context non-participants.

G+ has the advantage of a forum instead of a blog, where we can all start conversations on our own terms.

Is the purpose of the conversation to have the conversation, or is it to create an archive of the conversation for other, later, non-participants to use?

---
2013-05-16 : What I Neglected to Tell You

I've been doing almost all of my internetting on G+ for a while now. If you don't follow me there, but only read my blog, here are the highlights of what you've missed.

First and foremost, we curse the name of Epidiah Ravachol.

At PAX East he released a vicious little beast of a game called Vast & Starlit. He calls it a "nanogame," it's a core book plus three supplements, and it fits on four folding business cards. All told it's just under 2,000 words long. Which is fine, I don't curse him for that; we're indie and he gets to do whatever he wants.

Problem is, it's really, really good. It's at the cutting edge of both technical rpg design and humane social footprint. It shook up my thinking, posed me a challenge, like nothing has since 3:16.

I had three other projects going full-tilt. I'm going to name them here coyly: A Prelude for Venus, Apocalypse World: Nightmare City, and an untitled swashbuckling romance game. I haven't abandoned any of them, but I've set them aside for now to answer this accursed, unignorable nanogame challenge.

Meg went to Ethiopia.

Meg spent two weeks in Ethiopia at the beginning of February doing game design for The Girl Effect, the culmination of a project she'd been working on since October or November. She and her team - Jess Hammer, Julia Ellingboe, Giulia Barbano, John Stavropoulos - designed a suite of social games for play by teenage girls' clubs in Ethiopia, and Meg, Jess and John went to Ethiopia to field test them.

I'm blown away by the game design they did. It was a beautiful coming-together of three of Meg's four passions, games, sex ed/girls' activism, and small group work, and she and her team kicked its very butt. (The fourth is textile history & conservation.)

Meg and her team won't be publishing the games they designed, and we aren't their audience anyway. The closest we get is this game based on one of Meg's design, adapted for us, in (no surprise) beautiful nanogame form: Valiant Girls.

I was guest of honor at Fastaval!

Fastaval was great, remarkable. I played some Fastaval games, talked about game design, called the Fastavalers "game designers" against their wishes, and drew diagrams for everyone who asked. I'll tell you about it sometime, maybe try to reproduce the diagrams here, but there's a whole lot of groundwork to do first.

Then more nanogames and nanogame talk.

Epidiah Ravachol published his nanogame What is a Roleplaying Game?

Marshall Miller published his nanogame Nanoworld: A Game of Clones.

Ben Lehman published his nanogame Witch House.

There's been some talk about what's the difference between a nanogame and a game poem and other small games that we've been making all along, like Lady Blackbird and so on. My answer: nothing important! My advice is to take all games as they come, on their own terms.

And there have been early rumbles of the coming backlash, which only makes sense to me. This is some threatening, challenging, provocative biz. Rob Bohl's guest post below (here) softpedals it as a joke, but look out, the real thing's on its way.

We're up to date!

Coming next: my own nanogames.

The Sundered Land is a series of 5 games plus 2 supplements. Four of the games are designed for face to face play; the fifth for play online, on your blog or G+ or wherever. I'll be running it here sometime soon. The whole series will be out by the end of this month. The games are:
- Caravan Guards in the Ruins of the Future (face to face)
- Night Watch in the Ruins of the Future (face to face)
- At Ends in the Ruins of the Future (face to face)
- Warriors in the Ruins of the Future (face to face)
- A Doomed Pilgrim in the Ruins of the Future (online; you can see it in action here, eg.)
The supplements are:
- Restless Ambition in the Ruins of the Future
- Roleplaying in the Ruins of the Future

I can't wait to show them to you! I think they're pretty neat.

---
2013-05-15 : Quick Reader Survey

Hello friends.

I've noticed that I've moved almost all my blogging and stuff over to G+. I want your straight-up opinions about this. Act now! I rarely care about straight-up opinions!

For you yourself personally, which?
(a) You wish I would bring my blogging and stuff back here where it belongs, screw G+.
(b) You wish I would copy my blogging and stuff here too, so that you don't have to go to G+ to read it, but you don't mind if G+ can read it too.
(c) You're perfectly happy reading it over on G+.
(d) Other, please specify.

Thanks!

---
2013-05-10 : Valiant Girls

Hey, Meguey's new game is live! Check it out:
Valiant Girls

It's a fun game and lest I make myself a nag, it's more important than you realize, you who still read my blog. It's fully mainstream, approachable, functional, and complete, in an appropriately-sized and unintimidating package.

If you're interested in:
- non-misogynist game design
- non-racist game design
- game design for a non-nerd audience
- game design with a humane social footprint
then you should be paying attention, or else don't come crying to me!

---
2013-05-01 : Octo: Games of Spring

For backing Ivanna and the Wolf, Renee Knipe arranged for me to receive a copy of Octo: Games of Spring. It arrived yesterday.

It's marvelous!

We live in an age of heady and illimited self-expression. I like it here.

---
2013-04-20 : A Vast & Starlit Post
starring me, Meg, and Eppy

Meg: How long were you in for?
Me: Do you mean, how long was I in before we escaped, or how long was my sentence?
Meg: Both. How long was your sentence?
Me: Ten thousand consecutive lifetimes.
Meg: Huh! How long were you in before we escaped?
Me: Eight days.
Meg, Eppy: Oooooh...

---
2013-04-01 : The Tower Has Fallen
a guest post by Robert Bohl

The Tower Has Fallen: Epidiah Ravachol's "Vast" Swindle

Everyone's into praising Epidiah Ravachol now, and while I can't deny he's done good things (the amazing horror game Dread, and the upcoming Swords Without Master, which lets you do pulp fantasy like nobody's business), I'm disappointed at his latest move.

I'm talking, of course, about "nanogames." Eppy talks about them like they're some exciting new way of delivering RPGs to people. I call it hipster douchebag marketing. Furthermore, I call it gouging.

Having not yet read the first of these games, Eppy's Vast & Starlit, I won't provide a critique of the game per se. I will say that these games are written under 500 words, and are designed to fit on a single business card. So fucking what? What does that actually add to the hobby?

Nothing. It's all a fucking marketing gimmick. The wonderful explosion of creativity that marked The Forge has flowered into this turd-blossom of a gimmick. A gimmick designed to rip you off. Do you know his markup on these games is hundreds of percent? Did you know that he charges the same for all 4 supplemental books as he does for the core rules? Did you fucking know that there's a whole book about sex? I mean, what the hell, Eppy, why not prostitute yourself?

Oh, you know what else? You want to download this and add it to your immense game library? Well fuck you pal, that's not an option. You want to shoot him a few dollars over the Internet? You're shit out of luck. If you want this game, you either have to hand him a dollar bill in person, or you have to make a little drawring to send in your self-addressed stamped envelope (details on the propaganda site). I mean, Jesus Christ, can you get any more cloyingly precious? You getting some weird kind of Vegan blood poisoning, Ep?

But you know, whatever. People are entitled to their bullshit schemes. I just thought you should all know. And furthermore, I need you all to know that this plot of his is spreading. Already some beloved indie stalwart game designers and well as exciting newcomers are working on their own "nanogames." I won't name names, but you know who you are.

Do you see what damage this is causing? Eppy obviously means to strike at the heart of the business model I prefer. I like writing novella-length softback books with color covers, black and white interiors, at any size other than 8.5" x 11", goddamnit! Eppy, why are you trying to destroy my medium? What the hell, man?!

---
2013-03-26 : Off to Fastaval
I'm going to Fastaval! I'm leaving today! You probably won't hear much from me until I get back next week sometime, but whatever. More importantly: I'm going to be slow processing your orders. If you buy my games I'll send you the PDFs as soon as I can, but it might not be until like the 4th of April.

Wish me luck! See you after.

---
2013-03-14 : Walkingsuit Retroconfiguration

Not quite 2 days left, and only $125 to go!

I get that maybe some of you aren't really into the idea of dolphin invaders from space. I don't understand, but that's fine! I think you'll get something good out of the playbook anyway. Here's a picture of a dolphin walkingsuit retroconfigured by a savvyhead for a human pilot: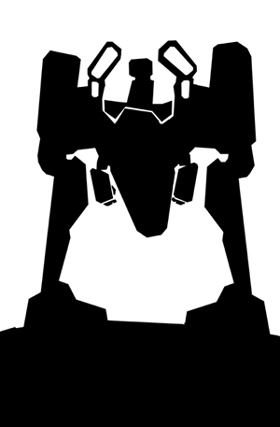 ---
2013-03-06 : In the Grim Future of Apocalypse World...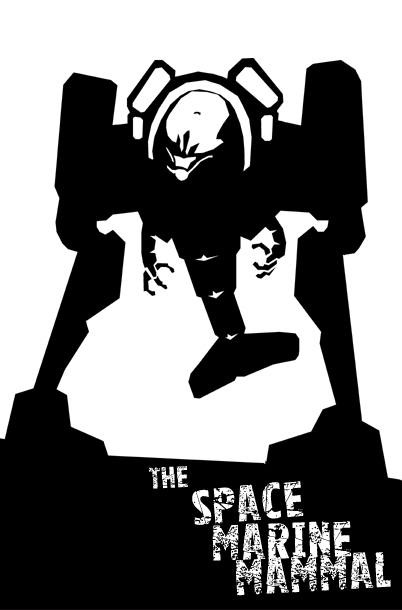 Introducing the Space Marine Mammal

50 years ago, the enemies of Earth unleashed a psychic weapon that destroyed all hope for the future of dolphinity. Anticipating the attack and its outcome, leaving many behind to suffer and die, your grandparents rushed to evacuate Earth. They built secret orbital stations and expanded the hidden Mars base into a functional colony. Their grandchildren — you — are all that remains of true dolphinity after this appalling apocalyptic assault.

Today, the mission to reclaim Earth begins.

I'll be creating and publishing the Space Marine Mammal playbook if the Sea Dracula: Judicial Inquest at Gamestorm 2013 kickstarter reaches $1,200. Everybody who gave $5 or more will get a copy.

The Space Marine Mammal playbook will include official rules for powered armor mecha in Apocalypse World.

---